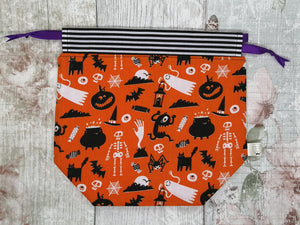 This project bag is really fun, with lots of halloweeny images on a bright orange background, with black and white striped fabric for the drawstring case. It was hand made, and is fully lined. The lining is orange, and it is fully interfaced so it will stand up on it's own. Inside there is a small patch pocket to keep any loose notions in, which is also orange.
The bag is suitable for projects such as socks or small shawls. It's measurements are 20cm tall, 23cm wide, and 10cm across the bottom. 
Purple satin ribbon has been used for the drawstrings, and there is a small satin tag with a black and white sheep at the bottom edge of the bag.